Totally bespoke, scalable finance functions
Accelerated growth for technology businesses. Integrated finance operations that accelerate business growth for tech, SaaS and e-commerce founders. The below are illustrations of how your fee and services might look. All of our finance function services are totally bespoke and will evolve as you grow.
We also charge an onboarding fee equal to 1 months fee.
Get started
In addition to our core service plans, our clients often choose to add complementary services to their package, these include:
Frequently Asked Questions
Yes. We charge a set up fee equivalent to one months fee. Depending on the complexity and status of your existing accounting we may need to discuss other fees with you.
Our notice period is 90 days. We don't offer any refunds if you leave part way through your company year.
We operate a 1-3-12 pricing review. We review our payroll fee monthly, based on the number of employees. We review the bookkeeing every 3 months, looking at average monthly transactions over the quarter. Everything else is reviewed annually. You can add additional services or increase the frequency of any existing services at any point.
You can join with us at any point in your company year. We charge an alignment fee for Year End Accounts & Corporation Tax Returns on a pro rata basis of your annual cost.
Why Outsource your Finance Department?
Outsourcing has all the benefits of an in-house department, and more, without the responsibility. Learn more about how an outsourced finance department benefits your business.
Chat with our team about your vision
Thinking about seeking investment for your startup?
We'll shed some light on the options available to you...
Read on the blog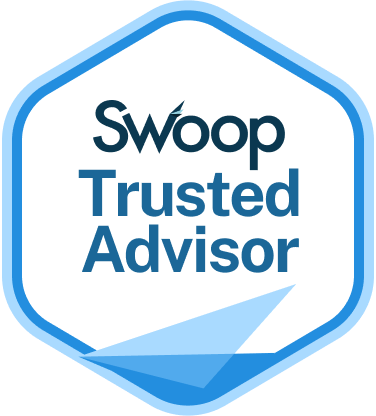 Boost your business growth with funding
We've partnered with Swoop to provide you with the solutions to grow your business by combining our unique knowledge of your accounts with the accessibility of Swoop's funding solutions across grants, loans, R&D, and equity.
Learn more
"We highly recommend Crisp Accountancy to any business looking to improve their financial performance and make strategic decisions about their growth."
Ben Reed - Diamond Whites
5,321
Giving impacts that we've made as part of our Accountants for Good pledge. Every time you deal with us, we make sure something great happens in the world.
Next steps
01
Book a discovery call - for us to learn about your business and how we can help.
02
Arrange a strategy session - we'll give you insights and a plan to improve your finances, whether you engage us or not.
03
We will build a bespoke service plan together and produce an instant proposal for you in the meeting.